Virginia is a state rich in more than just history. According to Harper's Index, the Ghost Research Society of Oak Lawn, Illinois, Virginia ranks number one among states with the largest ghost population. In the interest of Halloween, a little research was done on the Roanoke and New River Valley's ghosts. Some stories have come from oral traditions and others are mentioned in books about the area. Regardless of their source or authenticity, they are a slice of our past.
In 1902, the "Woman in Black" terrified Bristol, Roanoke and Bluefield. According to newspaper reports in Roanoke, "Her name was on every lip; strong men scrambled when her name was spoken; terror reigned supreme."
One night, over 25 people saw her. She never caused any physical harm, and all who saw her agreed to her breathtaking beauty. The suspicion was that she was the ghost of a wronged wife making sure that other married men didn't stray.
One account is that she appeared suddenly at the side of a prominent businessman returning home after midnight. She called him by name. He increased his pace, but she easily kept along side. "Where do you turn off?" she asked. "Twelfth Avenue," he replied. She put her head on his shoulder and he tried to shake it off. "You are not the first married man I have walked home this night."
Two men tried to trip her on a downtown bridge one evening, approaching her coming from each end of the bridge. Just before they reached her, she vanished into thin air.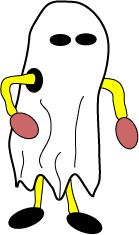 The Patrick Henry Hotel is home to well-known ghost. "Miss Lucy" supposedly still roams the hotel which housed the apartment in which she lived and died. According to Manager Bill Carter, there have been at least 40 accounts of seeing "a lady in a big, long white dress." Flight attendants and pilots are familiar with the stories of Miss Lucy, and will request a night in the room. None will stay the night after the episode. One flight attendant fled her room in the middle of the night after seeing stairs come out of the wall and a lady walk down them and across the room.
Virginia Western Community College is no stranger to ghosts, according to Debbie Carveli, Professor of Parapsychology. Debbie has assisted both West Virginia and Virginia State Police in investigations, and was recently interviewed by Sightings during a filming at Avenel in Bedford for a ScFi-Channel.
The Fine Arts Building used to be the city's Poor House. Campus lore has it that the building is haunted.Lights turn on and off, and the air over the stairs has a strange feeling. Certain hallways smell of isopropyl alcohol, and sometimes the building's "energy" will make people sick. As Debbie Carvielli said, "It's like replaying things that happened here long ago."
Upon the hill to the west side of Poor House Road was a Pest House, built for victims of the dreaded small pox to be isolated and treated. Looking down from the current Library and Anderson Hall, you can see a mound that was obviously once a building foundation. Perhaps the old Pest House? Security guards on campus have reported feeling temperature differences in this area, like running through a cold spot on a hot summer day. Lights reportedly turn on and off in Anderson Hall.
To top it off, the hill on the arboretum side, which is now home to the Humanities Building, once was an Indian burial ground. There are reports of cold spots and sever temperature drops in the area.
Virginia Western is not the only college with ghosts. Hollins College is home to several whom have made the pages of the newspaper and have been the focus of student research.
Presser Hall is believed to be haunted. Doors shut by themselves, and students have found themselves locked in a practice room only to easily open the door minutes later. A wedding or funeral procession has been seen entering and leaving the building. Associate Professor of Film, Carl Plantinga, says that the ghost has most recently been visiting video production students in the top floor of the Presser.
Two students witnessed a chair on wheels being flung across the floor, denting a register, in an empty editing room. Another student felt a "wind" and looked behind her to see the figure of a man. The "man" turned and floated down the stairs.
Starkie House, which is now a resident hall, served as the Old Hollins infirmary. A ghost nurse, dressed in turn of the century attire, has visited students at night. She feels their foreheads and watches over them.
Last, but not least, the Hollins Theatre is home to "Elizabeth." Rumor has it that she committed suicide in the theatre in the late 1920's. She visits the theatre at night, usually during rehearsals, and catches people off guard as she strolls across the stage or behind lights.
Legend surrounds the Bellvue Plantaiton and Black Horse Tavern. The tavern, established in 1782, is one of the oldest buildings in Roanoke. It is now a home. Kyle's Hotel, now Bellvue, was located next to the hotel. Built in 1854, it operated as a hotel until 1875.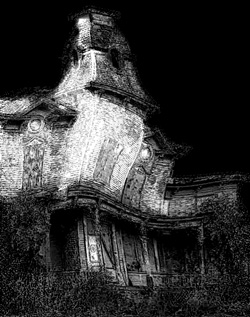 Linda Selfe, owner of Bellvue will not stay alone in the home at night. The family has often heard the sounds of a child running up the stairs, hitting the rungs of the banister with a stick. The sound of footsteps in the hall are also common.
The legend of Black Horse Tavern is that a man on a white horse comes out of Reed Mountain and rides toward Hollins College. The belief is that the rider is looking for his lost love.
Salem, of course, appears to be home to more ghosts than any other area. The Goodlett Home on Union Street may be inhabited by the spirit of Anna Marion Bland. Family lore has it that she is trying to get back to the house after dying in Maryland in 1931. William Goodlett, owner, has felt and heard the spirit. He has been "tucked into bed" and patted on the shoulder. He has also heard a horn honking in his closet.
Pennsylvania Ave. in Salem is home to at leat two ghosts. Residents of a Victorian home built in 1887 have encountered a spirit. Lights mysteriously turn on and off. People have been awakened by what felt like someone pulling the covers back and sitting beside them. While the vanBlaricom family, previous owners, were vacationing, a neighbor walked to the house twice to turn off a light. It was off when she arrived. After returning home, the light was back on.
William Victorine tuned a piano in a house father down Pennsylvania Avenue, and felt as if he were being watched. He felt a sudden draft on his arm that remained there for a minute. He found no open doors or windows to cause a draft, and no people were in the house. After sitting back down, he felt as if someone had almost touched his arm, and it raised the hair on his arm. "A very memorable experience."
The Old Manse Bed and Breakfast in Salem houses a lively ghost that apparently likes to smoke cigarettes and read books, according to 20-year owner Charlotte Griffith. Lights turn on and off mysteriously, even though the house has been rewired. The electrician can offer no explanation. Many of the lights are turned...
THE REST IS CONTINUED ON PAGE TWO
Betty Holbrook "Strange Happenings: Virginia Division Safety News" 1998.