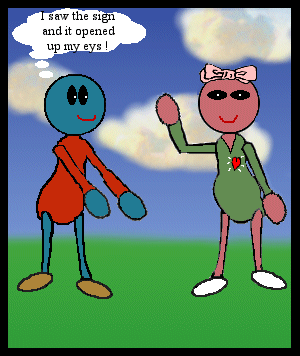 Dot Saw The Sign
You can see the sign too. The above verse written on the sign, in the second top frame, came from the Holy Christian Bible John 3:16. It is the golden text of the Bible. Look also at Romans 5:8, "But God demonstrates his own love for us in this: While we were still sinners, Christ died for us." God loved each and every one of us that he gave His Son to die for us. That means if at this moment it seems no one may love you, God does.
It is not wrong to want to be loved and accepted. Everyone craves love and acceptance. Love is not always easy. Without love life would be very lonely and worthless. I John 3:1 "How great is the love the Father has lavished on us, that we should be called children of God! And that is what we are! The reason the world does not know us is that it did not know him." We find total acceptance we are craving in God. He does not just like us, he does not just loves us some, he "lavishes" his love on us.
Often the hardest place to be loved is at home. We treat friends and even acquaintances better than our own family. Love is the most basic ingredient in the family. It is the glue that holds families together. Love means that family and friends will provide support when situations are difficult. It means you will not jump in and cause unnecessary conflict or trouble. It means not to ignore your family or treat them as though they do not exist. Family members, young children; teens; adults; parents, all of us are guilty of not being as loving as we could be or as loving as God would have us to be.
Love is Christianity's most basic ingredient. It holds together all that Christianity teaches. I John 4:16 "And so we know and rely on the love God has for us. God is love. Whoever lives in love lives in God, and God in him." John 15:12-13: "My command is this: Love each other as I have loved you. Greater love has no one than this, that he lay down his life for his friends." Galatians 5:22 "But the fruit of the Spirit is love, joy, peace, patience, kindness, goodness, faithfulness" I Corinthians 13:4-6 "Love is patient, love is kind. It does not envy, it does not boast, it is not proud. It is not rude, it is not self-seeking, it is not easily angered, and it keeps no record of wrongs. Love does not delight in evil but rejoices with the truth."